Wayne Herbert
Personal Information
---

<![if !vml]>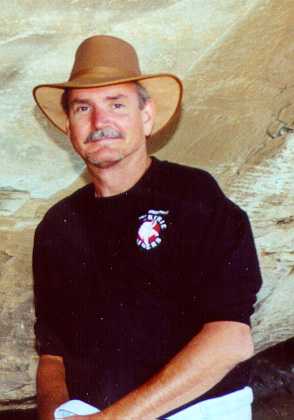 <![endif]>I'm a 55 year old Electrical Engineering graduate from Rice University in Houston. I began my education at the University of Houston Honors College in 1993, at the age of 43, then transferred to Rice two years later. I believe I am the oldest person ever to graduate with an engineering degree from Rice. Although it was quite a bit of work, the new knowledge and the sense of personal satisfaction and fulfillment I gained made the entire experience very worthwhile, and have made me a more well rounded person. I wish all people could have the experience.
I had anticipated becoming involved in the electronics industry after graduating but quickly learned that most firms are seeking much younger people. Those firms interested in hiring me were on the west coast, an area that was not on my wife's list of places to move. Thus, after graduating in May of 1997, I took a job with Key Maps, Inc. of Houston, a privately held regional map publisher. This company provided me with part time work while I attended school. Key Maps has been publishing the most widely used book maps in the region since 1958, and has embarked upon a project to move to electronic publication of their book map products; and to create GPS accurate GIS files for use in routing, dispatching, demographic analysis, and more. The work is interesting and allows me to draw upon past experience, but I may consider something different once I fulfill my commitments to the company.  Update as Of November, 2004:  I have moved to Singapore to start a business with a partner I have known for 30 years.  Our line of work is project management and project related services in the Asia Pacific region.  What can I say?  It's great.  We've got an excellent business plan, the professional skills necessary to run a project management company, and wisdom and a few gray hairs to guide our new venture to success.  Check out our home page at Catalyst Project Solutions for more information.
My electrical engineering specialty at Rice was systems and controls. This is a fairly broad based "specialty", and includes topics in feedback control, communications theory, and digital signal processing. Interestingly enough, the methods and disciplines required in the engineering profession substantially enhanced both my project management skills and my analytical skills. Any engineering project is a compromise between cost, safety, "buildability", lifespan, and numerous other factors, much as what one might find in defining and executing a technical project; the tradeoffs between scope, cost, schedule, and quality.
I've also explored courses outside my specialty, including robot dynamics, machine vision, artificial intelligence and expert systems, a fascinating course in image processing, economics, and managerial accounting. Of all the courses I took, robotics and accounting were the most interesting course; robotics for teaching me that seemingly simple problems are actually very complex, and managerial accounting for teaching me how to evaluate investments and cash flows using the time value of money (another useful skill in project management). I have provided an informal college transcript for those of you who might want to know just what I took in the way of college courses.
Before attending college, I worked in the computer business in just about every job possible, ranging from data entry clerk to data processing manager and finally software consultant.  I learned early on in my first large scale IT shop that simply being a good technician is insufficient; one must also know how to run a project in order to make it happen.  I taught myself how to manage systems implementation, and as a result, I rose very rapidly within the organization.  My technical specialties are geographic information systems (GIS), particularly as applied to police and fire dispatch, political redistricting, and demographic analysis; extensive experience in financial systems and governmental accounting systems; and many specialty systems. My strong points are project management, business process analysis, and system design. My resume is available for your inspection.
I was born in Vancouver, Canada, but have lived in the United States since 1965. I became a United States citizen in 1979. Through various changes in U.S. immigration law, plus the fact that I was born in Canada and my father was born in England, it has become possible for me to hold three citizenships and passports: United States, United Kingdom, and Canada. I have the right to live and work in the U.K. (and most of the EU as well) without the need for a work permit or immigration visa.
My hobbies include wood working, tinkering, taking things apart (and maybe getting them back together), photography, and reading. I have been politically active in the past, including writing and lobbying for legislation at the Texas state legislature. I am an adherent of the psychological theories of Carl Jung, and have done extensive reading, taken several course, and participated in New Warrior Training to increase my personal growth, a process that Jung called "individuation". Maturity and wisdom don't just happen; it requires a concerted effort to understand one's inner self and motivations.  For more on this subject, check out my Personal Growth page.
I have a lovely wife of twenty six years who graduated cum laude from the University of Texas with a degree in mathematics. She was formerly a senior administrator for a psychiatric hospital, and is now the director of information technology for an organization in the medical community. She has a black belt in tae kwon do; this adds a whole new dimension to our marriage!  We have traveled a fair amount, including trips to South Africa and Southeast Asia.
My daughter is a graduate of Texas A & M University with a business degree in marketing. She works as a media specialist and internet developer for the University of Houston. She has provided me with a beautiful granddaughter, Nicole, who at age 7, knows everything, is reading and writing, and challenges her "Poppy" at the dinner table to solve the "hard problems" of arithmetic that she throws at him.  She owns the world and I'm one proud "Poppy".
Please email me if you wish more information.
---
---

Page Last Modified on August, 2004